Paul Scherer
11th Annual Invitational Tournament
Ann Morrison Park in Boise, Idaho

June 1st-June 3rd, 2018


Entry Deadlines & Fees*
March 5-April 1, 2018: Early Bird Registration $350
April 2-April 29, 2018: Regular Registration $425
April 30 -May 13, 2018: Late Registration $475

*Please note you will be charged a 2.5% convenience fee for debit/credit card transactions or a $5.00 convenience fee for eCheck transactions.

If you have any questions, please contact the tournament committee.
The SISL will hold the 11th Annual Paul Scherer Adult Invitational Tournament on June 1-3, 2018, at Ann Morrison Park in Boise, Idaho.

For tournament rules and divisions, please visit the tournament rules page by clicking here.




Divisions:

Women's competitive and recreational

Men's competitive, recreational, and over 40




Host Hotel:


Holiday Inn Express and Suites Boise Airport

Phone 208.342-4322

3050 S Shoshone, Boise, ID 83705

Dates: Friday-Saturday, 06/01/2018-06/02/2018

Breakfast buffet included.

Reservations must be received by 05/11/2018. After this date,


they will be accepted on a space a rate available basis only.

Special thank you to all our sponsors!

Please visit our website soon: www.sislsoccer.com


for updates and additional information.

Contact us directly at:




TOURNAMENT RULES

1. ELIGIBILITY:

The 2018 Paul Scherer Invitational is open to affiliated USASA members. If not affiliated contact Tournament Committee for further information. We want you to play!

Participants shall consist of Men and Womenâ??s adult teams forming the following Adult Age Divisions*:

Menâ??s & Womenâ??s Premier, Open (Rec) Division I & Division II, Menâ??s Over 40

Note: We work toward having at least 4 teams in each division. Please get your entries in as soon as possible. Final entry deadline is May May 13, 2018

*The Tournament Committee/SISL reserves the right to combine teams into divisions as seen fit.

2. TOURNAMENT AUTHORITY:

The Tournament Committee shall have ultimate authority over all tournament competitions and disciplinary matters. The interpretation of the rules and all decisions of the Tournament Committee are final.

3. COMPETITION FORMAT:

The competition will consist of round robin play to determine who will play in the finals.

a. The Tournament Committee reserves the right to determine the size of each competitive group, and the right to alter the groups and format to account for larger or uneven numbers of teams in a given competitive division.

b. The Tournament Committee shall determine the schedule & start times of all games, including adequate rest time between games. (If you have special scheduling needs please inform the Tournament Committee right away.)

4. ROSTER RULES:

A player with a tamper resistant affiliated player card, is eligible to be placed on the Tournament Roster. No players may be added to a Tournament Roster after

a. Maximum Tournament Roster Size: Up to 20 players.

b. Playing on two teams: Players cannot play for more than one team at a time. NO Dual rostering!

c. Substitutions: Unlimited substitutions and unlimited re-entry of players listed on the teamâ??s roster. Substitutions may occur at any stoppage of play. However, the referee shall have discretion over all substitutions, and may refuse to allow any substitution if, in his opinion, the purpose is to disrupt the game**

d. Age: Players must be at least 16 to play and turn 30 and or 40 respectively during the calendar year to play in over 30 or 40 divisions.

**In allowing for unlimited substitutions, the Tournament Committee wishes to remind all coaches that it is their responsibility to handle their substitutions in a professional and timely manner so as not to detract from the game.

5. REQUIRED DOCUMENTS:

a. A valid tamper resistant affiliated player card accompanying a valid ID, and the player must be listed on the Official Tournament roster.

b. See â??Team Check-In Proceduresâ?? for more information.

TOURNAMENT RULES cont.

6. COMPETITION RULES: The following rules shall govern all Tournament competitions:

a. All games shall be played pursuant to FIFA Laws of the Game, unless stated otherwise in these Rules.

b. Length of Games:

All games are 45 minute periods * Except the menâ??s 0-40 games are 35 min periods

Men's over 40 games are scheduled for 35" periods but if both team captains agree, the periods can be extended to 40" or 45" upon request at the beginning of the game.

All halftimes: a minimum of 5 minutes

c. In excessive heat conditions, limited water breaks can be allowed by the referee at his discretion.

d. For all round robin games, games ending in a tie will be recorded as a tie, with each team receiving three points.

e. Tie in Final Games will go directly to Penalty Kicks; teams must use players on the field at the end of regulation time.

f. All players must wear shin guards. All other equipment rules shall be pursuant to FIFA Laws of the Game.

g. The home team shall be listed first. In case of uniform color conflicts, the designated visiting team shall change uniforms.

h. No additions or changes can be made to the roster after May 25, 2018

i. Home team must provide a game ball

j. Players MUST present valid photo ID with full name and birthday at team check in, No Exceptions!

7. WRISTBANDS:

a. Wristbands will be used instead of player cards for game IDâ??s. All teams will check in at the tournament tent committee to receive their wristbands. A member of the Tournament Committee will verify each playerâ??s ID and apply the wristband. You need to check in a minimum of one hour prior to the start of your first game.

b. Each player will check in with the referee before the game, who will check the Tournament Team Roster. No wrist band no Play!

c. Wristband replacement: $5 replacement fee and must have a photo ID along with the old wristband, NO EXCEPTIONS!

8. STANDINGS AND TIEBREAKERS:

a. Game Points: 6 points awarded for a win; 3 points for a tie; 1 pt for shut out; 1 pt for each goal max 3; zero points for a loss. A forfeit shall be recorded as a 1â?? 0 win.

b. Tiebreakers: For teams tied in points at the end of a round robin competition, tiebreaker shall be: Head to Head, Goals Against, Goals For and last if needed, either a coin toss or Penalty Kicks.

c. For the finals a tie will go straight to Penalty Kicks, only players on the field can participate and must remain on the field at the end of regulation time.

9. GAME AUTHORITY AND DISCIPLINE:

a. The refereeâ??s decision in all matters related to the field and the game itself shall be final. There shall be no protests of any refereeâ??s decision or game results.

b. Red cards shall result in that player being suspended for the next tournament game. The SISL, and or ISSA, Disciplinary Committee shall have the authority to take further disciplinary action should they deem it necessary.

c. Two yellow cards in one game equal a Red. See above for red card rules.

d. All coaches &/or captains have complete responsibility and must control the conduct of their players, bench, and fans.

e. If, in the opinion of the referee, it is necessary to terminate a game due to the misconduct of a team or others associated with that team, the game shall be forfeited to the opposing team and the matter shall be referred to the Tournament Disciplinary Committee. Disciplinary action could result in suspension for the remainder of the Tournament or other sanctions. The Tournament Disciplinary Committee will resolve such matters. All resolutions derived from the Disciplinary Committee are final.

f. At the end of each game, the refereeâ??s game report shall be submitted to a member of the Tournament Committee.

TOURNAMENT RULES cont.

10. GAME START TIMES AND RE-SCHEDULING:

a. All games shall start at the designated time. A forfeit shall be declared if a team cannot field a minimum of seven (7) players at the start time of the game, plus 10 minutes. However, the Tournament Committee shall have the authority to adjust the schedule in cases where a teamâ??s arrival has been delayed due to unforeseen travel or weather conditions.

b. Every reasonable effort will be made to complete a game as long as the safety of the participants and spectators is not jeopardized. Should a game not be able to be started or should a suspension of play be required due to safety concerns or unplayable conditions, the referee and Tournament Committee shall consult, but the referee shall have the ultimate authority to either suspend or terminate the game for safety reasons.

c. If it is not possible to complete a game for the reasons set forth in this section, if the first half is completed, the results shall stand. If the first half is not completed, or if the game is tied, the Tournament Committee shall determine whether it shall be rescheduled or another resolution of the matter shall be implemented. The schedule of remaining games shall be a factor in any determination. The teams involved shall be consulted, but the ultimate decision on such resolution shall rest with the Tournament Committee.

d. In all cases, the Tournament Committee has the ultimate authority to adjust the schedule of any or all-remaining games, including shortening the length of games, to arrive at an equitable result and in consideration of the overall integrity of the competition.

11. DISCIPLINE:

Discipline for the Tournament shall be under the jurisdiction of the Tournament Committee backed by the SISL board.
_______________________________________________________________________________________________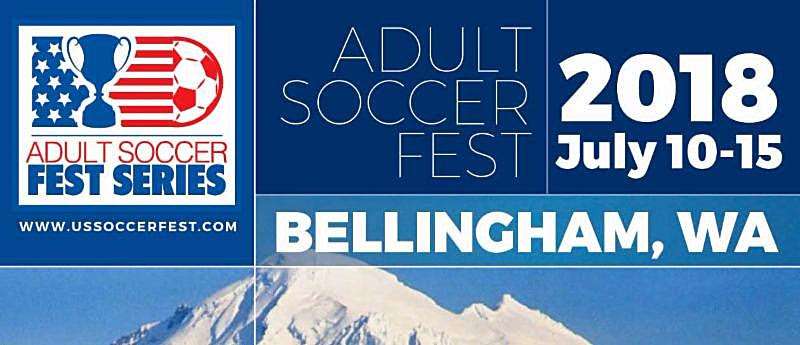 20th Adult Soccer Fest
Bellingham, WA
3 games guaranteed, competitive play, friendships renewed
Fun, music, food and drinks
Walking Soccer...say what? Stay tuned for details
Bellingham, WA
What to do? Hike, bike, paddle, or sail. Visit craft breweries or take the Bellingham Tap Trail. Drive the Mt. Baker Hwy to national forest or relax and enjoy the fantastic local cuisine.
Who's Attending
2018 Soccer Fest?